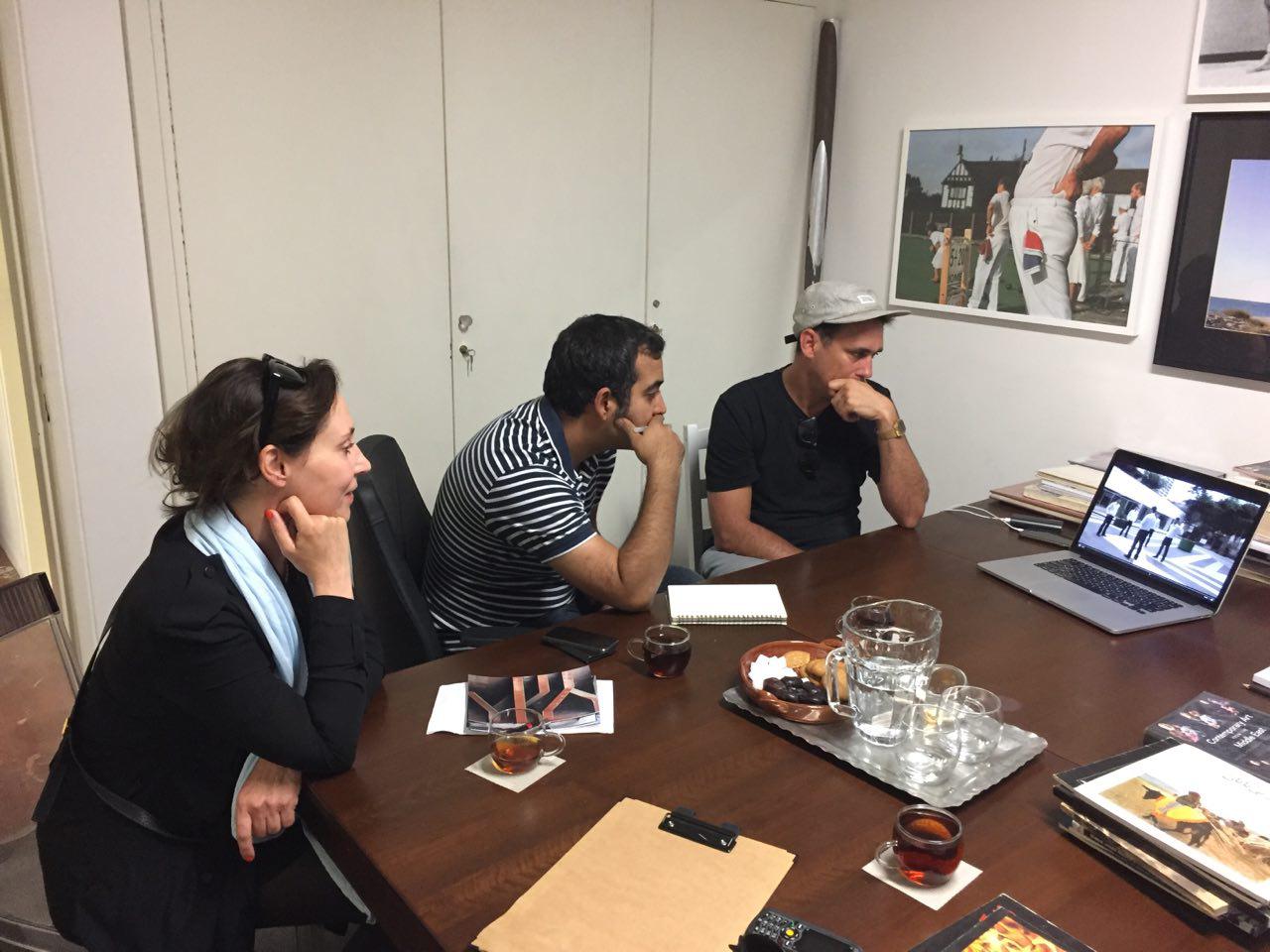 Stephanie Kloss
Stephanie Kloss is a German visual artist who's photographic work focuses on historic, social and architectural utopias. After her architectural studies at the Technische Universität Berlin she studied photography and media art with Thomas Struth and Candida Höfer at the HfG Karlsruhe.
Her work deals on the image behind the visible, the invisible, on the story transported by the depiction. It s a search for the fragmentary image of a forgone present, a utopian past. Metaphorical and physical boundaries between spaces, but also between utopia and reality, history and the present, individual and collective, scale and model are negotiated in her images.

Among her exhibitions are "Sodom Series", Salon Muschter, Berlin 2017, "Triangle/ Road to Giza", Galerie Laura Mars Grp., Berlin 2016, "Transit", Acud Project Space, Berlin, "Memory Lab", Martin Gropius Bau, Berlin 2014, "Hausbesetzung", Kunstverein Wiesbaden, "Weltausstellung" mit Heidi Specker, Galerie September, Berlin 2013, "Beyond Eden" in "Bauhaus und Kibbuz - Pioniere des Kollektivs", Stiftung Bauhaus Dessau, 2012, "Gehen Blühen Fließen", Stadtgalerie Kiel, 2011, "Selected Artists", Senatsstipendiaten 2010, NGBK, Berlin, Galleria Arte National, Caracas 2009.
Stephanie Kloss has been represented for 10 years by the Galerie Laura Mars Grp. Berlin.
Biography:
1988-1994
Architectural studies, Technische Universität Berlin
1994
Graduation Dipl-Ing (architect)
1995-1998
Post graduate studies of media art, Hochschule für Gestaltung Karlsruhe with Thomas Struth, Candida Höfer (photography) and Marie-Jo Lafontaine (Sculpture/Multimedia)
2004
Teaching assignment, Universität Greifswald, Caspar-David-Friedrich-Institut, department: art and audio visual media
2007
Travel grant, Goethe Institut, Caracas, Venezuela
2008
Teaching assignment for photography, Schwäbischer Kunstsommer
2010
Fellowship Escape to Create, The Seaside Institut, Seaside, Florida
2010
Working grant Visual Arts, Senatskanzlei für Kulturelle Angelegenheiten, Berlin

Kasper König collection
---------------------------------
CV
Von Hundert, Touch and Run (I FOR ONE (2015)) von Stephanie Kloss, 09. 2016

Camera Austria International 127 I 2014 Forum

Frankfurter Allgemeine Zeitung, Lichtpfeile am Nachthimmel
Die Fotografieausstellung "Memory Lab" im Berliner Gropiusbau, 28.10.2014

Der Tagesspiegel, MdF - Bilder gegen das Vergessen, 16.10.2014

Von Hundert, Ich mach' mir die Welt – widdewidde wie sie mir gefällt
/ Venedig-Biennale 2013 von Stephanie Kloss, 12. 2013

BerlinArtLink, Body Building at Neumeister Bar-Am, 26.10.2013

Von Hundert, Gebaute Gedanken/ Ungersabriss von Stephanie Kloss, 05. 2013

TAZ, Die Welt im Detail von Brigitte Werneburg, 4.04.2013

Freitag, Nr. 50, Heilige Landschaft. Mount Sodom.
Text und Fotografie: Stephanie Kloss, 13.12.2012

Leipziger Volkszeitung, Gebrochenes Eis von Jens Kassner, 10.10.2012

Von Hundert, Brutalismus-Symposium in der Akademie der Künste, Berlin von Stephanie Kloss, 06. 2012

Von Hundert, BB7… Du Opfer! Ein Rundgang durch die kw mit Joachim Blank und Stephanie Kloss, 06. 2012

Von Hundert, Ich-Maschine, der Star und sein System von Stephanie Kloss, 12. 2011

Magazin der Stiftung Preußische Schlösser und Gärten
Berlin-Brandenburg, Januar 2012

Monopol, Magazin f. Kunst u. Leben, Kibbuz und Bauhaus in Dessau - Die verlassene Utopie von Anna-Lena Werner, 04.12.2011

Jüdische Allgemeine, Aufbau Nahost von Fabian Wolff, 01.12.2011

Berliner Zeitung, Im Kinderhaus schlafen und Mozart hören von Ingeborg Ruthe, 02.12.2011

Tagesspiegel, Stein auf Stein von Nicola Kuhn, 02.12.2011

ART - Das Kunstmagazin. Gib mir fünf! Ausstellungstipp von Mirja Rosenau, 01.12.2011

Kibbuz und Bauhaus haGalil.com, 29.11.2011

Architecture and "Political Space" in Kibbutzim, research of Berliners by Lydia Aisenberg

Kieler Nachrichten, Blumen und wovon sie erzählen "gehen, blühen, fließen":
Stadtgalerie und Muthesius Kunsthochschule kooperieren mit einer Ausstellung
von Maren Kruse, 28.01.2011

TAZ, Einblick (371) Stephanie Kloss (Künstlerin), 26.01.2011

TAZ, Kontemplatives Nichtstun von Tim Ackermann, 01.02.2011

Von Hundert , Wolfgang Tillmans / Daniel Buchholz "Lass mal die Frau durch, die kennt den Wolfgang…" von Stephanie Kloss, 11.2010

Open Landscapes ------- Closed Rooms, L I V R A I S O N N ° 4. 2010

Berliner Zeitung, Malen mit der Kamera, von Sebastian Preuss, 13.03.2008

Die Welt, Manipulierte Wirklichkeit von Andrea Hilgenstock,
Fotografie von Stephanie Kloss im KioskShop Berlin, 14.03.08

Mach kaputt, was dich kaputt macht von Stephanie Kloss
in Katalog Peter K. Koch, Frozen Punk, 2007

Sleek Magazin HIDE/SEEK, Hell Dorado, Annika von Taube, 01.2007

Berliner Morgenpost, Fotografisches Spiel mit Wahrheit und Mythen
von Gunnar Luetzow über Brasilia Bangkok Berlin, 10.02.06

Welt am Sonntag, Brasilia, von Christian Nink, 03.04.2005

Welt am Sonntag, Er duftete nach Jasmin, von Christian Nink, 28.04.2004